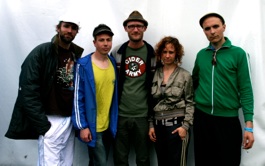 Looking for a good old hoe down with your knees up?
Then BRISTOL BRANCH IT!
We play lots of up-country Brazilian forró dance numbers and agricultural ballads, with a healthy dose of samba, cajun, murga and even some Scottish ceilidh dances if you ask nicely.
We're fiddles, accordións, vocals, and percussion: zabumba, pandeiro and not forgetting the guy on triangle. You keep dancing and we'll keep playing!
"…. well I'll be damned if I didn't see the whole tent nearly fall apart from people shaking their butts"
Get after 'em, right away.  This is the Bristol Branch of Orkestra del Sol.

Come on with it and give us a ring on  07776 206237!
Available for: Festivals, events, bars, pubs, parties, weddings, agricultural shows, apple harvests, barn raisings, openings, closures, dog shows, benefits, fireside sing-alongs, wassails, tributes, sports matches.
The BB playlist:
Luiz Gonzaga, Jackson do Pandeiro, Mestre Ambrósio, Chão e Chinelo, Toinho de Alagoas….